Religious leaders pay tribute at Auschwitz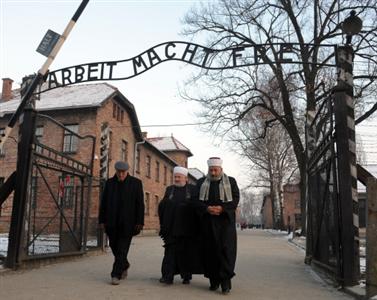 Muslim religious representatives walk through the entrance gate
under the infamous German inscription 'Arbeit Macht Frei' (Work
Sets You Free) in the former Nazi Death Camp Auschwitz-
Birkenau on February 1, 2011. Some 150 personalities from 40
countries are paying a visit to the former Nazi death camp of
Auschwitz-Birkenau, shortly after the 66th anniversary of its
liberation, a visit made to fight anti-Semitism and bridge cultural
rifts.
OSWIECIM (AFP)---A hundred Jewish, Christian and Muslim leaders from the Middle East, Africa and Europe Tuesday paid tribute to Holocaust victims at the former Nazi death camp of Auschwitz-Birkenau.


The visit, in the wake of ceremonies last week marking the 66th anniversary of the World War II camp's liberation, was part of the France-based "Aladin" project, launched in 2009 to promote inter-faith understanding and teach Holocaust history in Muslim nations.

"The key point of the Aladin project is that it enables figures from the three main monotheist religions, Christianity, Judaism and Islam, to come together in a place of genocide of the Jews," Cardinal Andre Vingt-Trois, the Roman Catholic archbishop of Paris, told AFP.

"It's a particularly important moment, because it's a sign showing that the faiths have taken the path of confronting this together," he added.

The participants held an inter-faith service at the site, before laying wreaths.

In a speech at the ceremony, Bosnia's Muslim Grand Mufti Mustafa Ceric said it was essential to fight genocide denial in all its forms.

"I am here to say to those who deny the Holocaust in Auschwitz, and whodeny the genocide in Srebrenica, that they are themselves committing genocide," Ceric said, referring to the 1995 massacre of 8,000 Bosnian Muslims by Bosnian Serb forces during his nation's civil war.

Poland's Chief Rabbi Michael Schudrich said he hoped such inter-faith gatherings would help prevent genocide in the future.

"By bringing Jewish, Christian and Muslim religious leaders together here to see the worst example of genocide in world history, it increases the chance they will be able to stop it next time," Schudrich said.

Auschwitz-Birkenau has become an enduring symbol of the Holocaust, Nazi Germany's wartime genocide against Europe's Jews.

A year after invading Poland in 1939, the Nazis opened what was to become a vast complex on the edge of the southern town of Oswiecim -- Auschwitz in German.

They later expanded it at the nearby village of Brzezinka, or Birkenau.

Of the six million Jews killed by Nazi Germany in the Holocaust, 1.1 million were murdered at the site, mostly in its notorious gas chambers, along with tens of thousands of others including Poles, Roma and Soviet prisoners of war.

The site is now a memorial and museum run and largely financed by the Polish state.